Popular IRA Approved Gold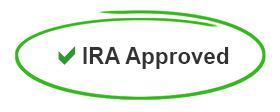 Below are some of the most popular Gold IRA eligible coins and bars ranked by popularity. IRA approved gold coins and bars listed below are linked to individual product pages or category pages if they are available to purchase directly from BGASC.com. Any gold coin or bar on our website that is eligible for Gold IRAs will also be marked IRA Approved on the item page itself. Learn More
Popular IRA Approved Gold Coins
Please note: The only semi-numismatic coins (aka "collectible" coins) allowed are Proof American Eagles in Gold, Silver, or Platinum. Other numismatic coins including certified coins (e.g. graded and in a slab) are not IRA acceptable.
Popular IRA Approved Gold Bars
Buying gold for a self-directed IRA account has never been easier than it is today. Learn about the simple Precious Metals IRA 3-Step Process Here.
Ready to open a Precious Metals IRA account?