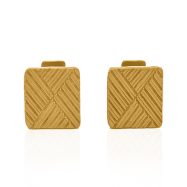 Nebü 11.9g 24K Modern Square Cufflinks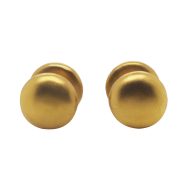 Nebü 23g 24K Orb Cufflinks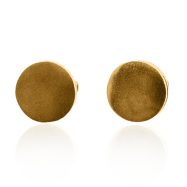 Nebü 24.8g 24K Bevelled Polished Disc Cufflinks
Nebü Cuff Links
The landscape of gold bullion has undergone significant transformations throughout history. In ancient times, gold bars served as a currency, notably during the era of Ancient Rome. In today's context, gold bars and coins have become valuable assets for hedging against market fluctuations. Nebü has revolutionized this industry by introducing exquisite, wearable gold bullion in the form of fine jewelry, with their gold cuff links standing out as a popular choice. Explore the world of Nebü Gold Cuff Links available at BGASC for more details.
Craftsmanship and Gold Purity
Each of Nebü's Gold Cuff Links is meticulously crafted from pure gold with a purity of .9999, sourced exclusively from South Africa. These cufflinks showcase the brilliance of gold without any embellishments, such as stones or gems.
Nebü's Gold Cuff Links are presented as a set, featuring various appealing designs, including:
Modern Square: A contemporary interpretation of the classic square design, these cufflinks boast a matte finish and an intricate textured pattern, radiating an elegant aesthetic.
Orb: A modern twist on the traditional orb cufflink design, these matte-finished cufflinks embody simplicity with their orb-shaped design.
Bevelled Polished Disc: A modern adaptation of the classic cufflink design, these polished discs resemble orbs but in a flatter form, containing a higher gold content of .9999 grams.
Invest in Wearable Gold Bullion
For those interested in Nebü Gold Cuff Links, feel free to reach out to our dedicated customer service team with any inquiries. Contact us via email, utilize our online chat feature, or call our toll-free number at 888-992-4272.