Precious Metals IRAs at BGASC.com
It's Easy To Diversify Your Retirement Account With Precious Metals from Buy Gold and Silver Corp. The Precious Metals IRA process is simple and we do not charge any extra fees for this service.
Starting A Precious Metals IRA Is As Easy As
Open A Self-Directed IRA Account
In order for your Self-Directed IRA account to remain IRS compliant, it must be managed by an IRA Custodian. Select one of our preferred partner IRA Custodians listed below or let us know if you already have a custodian in mind.
Inform your Custodian that you'd like to open a Self-Directed IRA with the intention of buying precious metals from BGASC.com. Your custodian will help you choose the best Depository where your precious metals will be stored.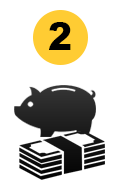 Fund Your IRA Account
When your Self-Directed IRA account is open, your next step is to deposit funds into the IRA account. Whether you are rolling over an existing account or funding a new one, your IRA Custodian will guide you through the process.
Once your account has funds, your IRA custodian will notify Buy Gold and Silver Corp. of your contribution amount, and you are ready to lock in an order with BGASC.com
Once your IRA account has been funded, you may call Buy Gold and Silver Corp. toll-free at 1-888-992-4272 to lock in a purchase of IRA Eligible Precious Metals. IRA transactions must be done by phone to accommodate their special handling.
Your IRA Precious Metals are shipped fully insured from Buy Gold and Silver Corp. to your chosen depository for safe storage in a high-security facility. You will be notified by your IRA Custodian when your metals arrive at the depository.
Self-Directed IRA Custodians*

GoldStar Trust Company
P.O. Box 719
Canyon, TX 79015
Toll Free: 800-486-6888
www.goldstartrust.com

Equity Trust
1 Equity Way
Westlake, OH 44145
Toll Free: 855-233-4382
www.trustetc.com

STRATA Trust Company
7901 Woodway Drive, Suite 200
Waco, TX 76712
Toll Free: 866-928-9394
www.stratatrust.com
Our Preferred Depository
A-M Global Logistics, LLC.
A-M Global Logistics is a full-service depository located in Las Vegas, Nevada. AMGL provides first-rate depository storage services and also offers additional services including evaluation, fulfillment, shipping, and allocated/unallocated inventory with delivery and storage options available at other worldwide locations.
<!–
A-M Global Logistics, LLC.
Toll Free: 888-964-7671
irastorage@amark.com
–>
Frequently Asked Questions About Precious Metals IRAs
Can I roll over funds from my existing retirement account without tax consequences?
Yes. You can transfer funds from your existing IRA (Traditional IRA, Roth IRA, etc.) or 401(k) into your new Precious Metals IRA account and there will be no tax penalty. Don't worry, your IRA Custodian will guide you through the entire process!
I don't currently have a retirement account. Can I start a new one and fund it myself?
Yes. It's easy to open a new Precious Metals IRA account and fund it yourself. Buy Gold and Silver Corp. welcomes new investors to call us toll-free at 888-992-4272 for more details.
Which products are IRA Approved?
You can browse the most popular IRA eligible products here:
Popular IRA Approved Gold
Popular IRA Approved Silver
Popular IRA Approved Platinum
Popular IRA Approved Palladium
Also note that all IRA eligible coins, bars and rounds at BGASC.com are marked as "IRA Approved" on each individual product page like this:

and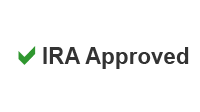 Can I put precious metals that I already own into an IRA?
No. To remain in compliance with the IRS, you must open a Precious Metals IRA account first with your chosen IRA Custodian and then you may buy IRA Approved gold, silver, platinum or palladium products that will be shipped directly from Buy Gold and Silver Corp. to your designated Depository for secure storage.
How are my precious metals stored?
Depending on your Depository, your metals can be stored either segregated or non-segregated within the secure storage facility. Segregated storage, also referred to as "custody" storage, ensures that the exact coins and bars you purchased will be securely stored separately from other customer's metals. Non-segregated storage allows for precious metals of like kind to be mixed since they are identical with the same weight and purity. Your chosen IRA Custodian will help you select the best Precious Metals Depository to suit your needs and preferences.
How do I access my investments when I'm ready to "cash out"?
One of the great things about Precious Metals IRAs is that when you are ready to access your investments, you can choose to take physical delivery of the metals yourself. If you'd prefer to "cash out" and liquidate your metals, one of your best options is to sell them to Buy Gold and Silver Corp. We offer competitive buy-back prices based on the current market value and your metals will be shipped directly from the Depository to us so you never have to lift a finger.
Where can I get more information about self-directed Precious Metals IRAs?
Call us toll-free at 888-992-4272 to talk to a Precious Metals IRA specialist OR check out BGASC.com's Precious Metals IRA Guide in our Online Learning Center.
Please Note: It is always recommended to consult with your financial or tax adviser regarding any transaction with tax implications.
Ready to open your Precious Metals IRA?